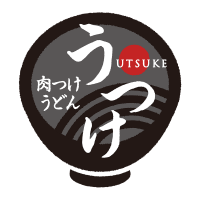 About
Utsuke is an udon shop specializing in meat tsuke udon.
Utsuke, an udon shop specializing in meat tsuke udon, provides homemade thin and wide noodles made 100% of wheat flour from Hokkaido with soup on the side. Tsuke udon is a style of udon which the noodles and a bowl of soup are served separately and few strands of noodles are dipped in the soup to eat. By immediately rinsing the cooked udon in cold water, the noodles become chewier and the amazing flavor and aroma of wheat becomes richer. There are three kinds of cold dipping soup and one kind of hot dipping soup, however, the noodles used are the same.
"Tsuke Udon with Spicy Beef," topped with sliced sweet and spicy beef, white sesame seed, scallion, and shredded seaweed is the most recommended menu item (photo on the upper left). By adding chili oil, we create a spicy dipping soup which goes extremely well with the beef. Dip the noodles into the cold strong-flavored soup made from dashi (Japanese soup stock) to perfect the flavor. To make the taste milder, crack the raw egg, served along with the tsuke udon, into the soup. The other two menu items served with cold dipping soup are "Tsuke Udon with Toriten (chicken that have been battered and deep fried)" and "Tsuke Udon with Seaweed." "Tsuke Udon with Pork," the only menu item served with hot dipping soup, is made of Japanese brand pork, deep-fried tofu, and welsh onion (photo on the upper right). Dip the noodles into the soup to enjoy the deliciousness of the dashi.
We also offer different seasonings such as tenkasu (crunchy bits of deep fried batter), chili oil, white sesame seed, shichimi (seven-taste chili pepper), ichimi (red pepper flakes), yuzu pepper (Japanese citrus chili paste), and grated ginger. The portion of the noodles could be chosen from 300g, 450g, and 600g.